Faculty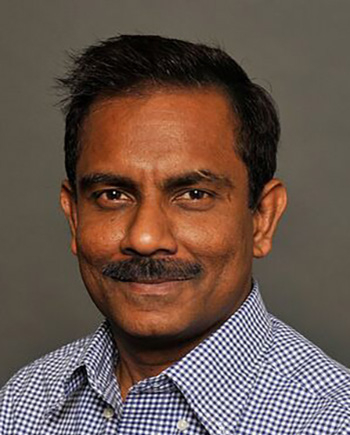 Venkatesh Balan, PhD
Associate Professor
Biotechnology

Biography
Venkatesh Balan is an Assistant Professor of Biotechnology at the Department of Engineering Technology at University of Houston. His research experience include, protein expression system in microbes, understanding structure and function of protein, producing fuels and chemical from lignocellulosic biomass using chemical pretreatment, enzyme hydrolysis and microbial fermentation, identification of small molecules using spectroscopy techniques. He spent almost twelve and half years at Michigan State University and developed key technologies including: several novel ammonia pretreatment process to produce pretreated agricultural residues useful for producing bio-fuels, bio-chemicals and animal feed, cost effective microbial fermentation process and healthy nutritional products from fungus. Dr. Balan is internationally recognized for his work in the area of understanding synergy operating between enzymes during biomass hydrolysis, developed fast hydrolysis and fermentation process by efficiently recycling enzymes, microbes, Lignin separation and fractionation to produce precursors for biomaterials and finally separation and structure determination of oligosaccharides. Some of his inventions has helped to reduce the cost of producing second generation biofuels and produce healthy food materials.
Education
Indian Institute of Technology Madras, India, Ph.D., 1992-1999
Madras University, India, M.Sc., 1989-1991
Madras University, India B.SC., 1986-1989
Professional Experience
University of Houston, Assistant Professor, Department of Engineering Technology, 2017- present
Michigan State University, Research Associate Professor, Department of Chemical Engineering and Material Science, 2005-2017
National Institute of Advanced Industrial Science and Technology, Post-doctoral fellow, 2002-2004
Oji paper company, Scientist, 2001-2002
Osaka University, Post-doctoral fellow, 1999-2001
Research Interests
At UH, Dr. Balan has established 'Protein and Carbohydrate Research Laboratory (PCRL)' that will use multidisciplinary approaches include chemistry, biology and engineering to produce bio-molecules useful for medicinal and industrial applications. His research projects are focused on the following areas:
Producing biochemical using genetic engineering platform;
Peptide expression system to produce biomolecules useful for biomedical and other biotechnology application;
Use complex carbohydrate to develop industrial enzymes; and
Microbial processing to produce food and nutritional products.
Patents
Method for producing and refining light-emitting beetle-derived red luciferase-stabilized form. Katsuhiro O, Balan V, Yuujitsu A (National Institute of Advanced & Technology, November, JP 2008-263996).
Process for producing sugars and ethanol using corn stillage. Balan V, Chundawat SPS, Sousa LDC and Dale BE. US 8,367,378 B2 (Patent Issued on Feb. 5, 2013).
Method of Pretreating Biomass. Balan V, Dale BE, Chundawat SPs, Sousa LDC. US 8,968,515 B2 (Patent issued on March 3, 2015).
Extraction of soluble from plant biomass for use as microbial growth stimulant and methods related thereto. Lau MW, Dale B, Balan V, Chundawat S. US9206446 B2 (Patent Issued on Dec. 8, 2015).
Yeast Strains. Slininger PJ, Thompson SR, Balan V, souse LDC, Dale B, Shen-Andersh MA, Dien BS. US9,297,027 B1 (Patent issued on March 29, 2016).
Awards & Honors
Awarded University Grants from Council of Scientific and Industrial Research (CSIR) Government of India (1992 - 1997).
Awarded Japanese Society for Promotion of Science (JSPS) fellowship, Government of Japan (1999 - 2001).
Awarded (STA-JSPS) fellowship, Government of Japan (2002 - 2004). Best research presentation award at American Institute of Chemical Engineers annual meeting held in Pittsburgh, PA (2012).
Selected list of publications (out of 139 publications)
Jin M, Sousa LDC, Schwartz C He Y, Sarks C, Gunawan C, Balan V, Dale BE. Toward lower cost cellulosic biofuel production, using ammonia based pretreatment technologies. Green Chem. 18, 957-966 (2016).
Sousa LDC, Jin M, Chundawat S, Bokade V, Tang X, Azarpira A, Lu F, Avci U, Humpula J, Uppugundla N, Cheh A, Kothari N, Kumar R, Ralph J, Hahn MG, Wyman CE, Singh S,. Simmons BA, Dale BE, Balan V. Next-generation ammonia pretreatment enhances biofuel production from biomass via simultaneous cellulose decrystallization and lignin extraction. Energy and Environmental Science. 9, 1215-1223 (2016).
Sousa LDC, Foston M, Bokade V, Azarpira A, Lu F, Ragauskas AJ, Ralph J, Dale B, Balan V. Isolation and Characterization of New Lignin Streams Derived from Extractive Ammonia (EA) Pretreatment. Green Chemistry 18, 4205-4215 (2016).
Stoklosa RJ, Orjuela ADP, Sousa LDC, Uppugundla N, Williams DL, Dale BE, Hodge DB, Balan V. Techno-economic comparison of centralized versus decentralized biorefineries for two alkaline pretreatment processes. Bioresouce Technol. 226:9-17 (2017).
Magyar M, Sousa LDC, Jayanthi S, Balan V. Pie waste—a component of food waste and a renewable substrate for producing ethanol. Waste Management 62: 247-254 (2017).
Gunawan C, Xue S, Pattathil S,Sousa LDC, Dale BE, Balan V. Comprehensive characterization of non-cellulosic recalcitrant cell wall carbohydrates in unhydrolyzed solids from AFEX pretreated corn stover. Biotechnology for Biofuels 10:82 (2017).
Jin M, Liu Y, Sousa LD, Dale BE, Balan V. Development of Rapid Bioconversion with Integrated recycle Technology for ethanol production from Extractive Ammonia pretreated corn stover. Biotechnology Bioengineering. 114:1713-1720 (2017).
Sarks C, Jin M, Balan V, Dale BE. Fed-batch hydrolysate addition and cell separation by settling in high cell density lignocellulosic ethanol fermentations on AFEX corn stover in the Rapid Bioconversion with Integrated recycling Technology process. Industrial Microbiology 44: 1261-1272 (2017).
Chundawat SPS, Uppugundla N, Gao D, Curran PG, Balan V, Dale BE. Shortgun approach to increasing enzymatic saccharification yields of ammonia fiber expansion pretreated cellulosic biomass. Frontiers in Energy Research. 5: Article 9 (2017).
Alameldin H, Izadi-Darbandi A, Smith SA, Balan V, Jones AD, Orhun GE, Sticklen M. Metabolic engineering to increase the corn (Zea mays L.) seed storage lipid quantity and to change its compositional quality. J. Crop Sci. 57:1854-1864 (2017).
Alameldin H, Izadi-Darband A, Smith SA, Balan V, Jones AD, Sticklen M. Production of Seed-Like Storage Lipids and Increase in Oil Bodies in Corn (Maize; Zea mays L.) Vegetative Biomass. Industrial Crops & Products 108: 526-534 (2017).
Jin M, Sarks C, Bals BD, Posawatz N, Gunawan C, Dale BE, Balan V. Toward high solids loading process for lignocellulosic biofuel production at a low cost. Biotechnology Bioengineering. Doi: 10.1002/bit.26229 (2017).