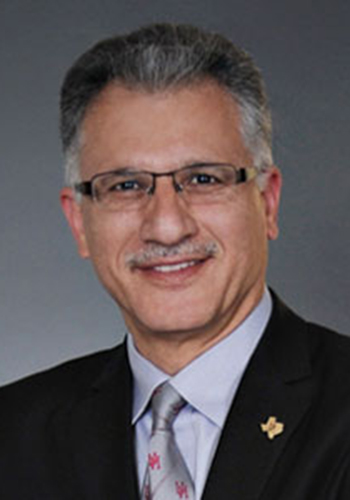 Dr. Heidar Malki,
Senior Associate Dean of the Technology Division
Heidar A. Malki, Ph.D.
Welcome to the Cullen College of Engineering's Technology Division at the University of Houston!
It is my honor to serve as Senior Associate Dean of the Technology Division at the Cullen College of Engineering. We offer numerous diverse and interdisciplinary programs, including eleven undergraduate degrees, nine graduate degrees, and several professional and certificate programs. Details of those academic and certificate programs are listed in this website.
Currently, the CCE Technology Division offers academic programs at both the UH main campus and UH at Sugar Land. Our faculty are highly active in applied research funded by NASA, National Science Foundation, National Institutes of Health, Department of Defense, Department of Energy, and many industries. We offer unique graduate programs ranging from Executive Human Resource Development, Foresight, Construction Management, Project Management, Cybersecurity, and MS in various Engineering Technology disciplines.
About Senior Associate Dean:
Heidar A. Malki, Ph.D. earned his B.S., M.S., and Ph.D. degrees in Electrical Engineering from the University of Wisconsin-Milwaukee in 1983, 1985 and 1990 consecutively. In 1991, he joined the University of Houston as an assistant professor in the Department of Engineering Technology (ET). He has served in many administrative roles, including associate dean for research and graduate studies, department chair and associate dean for academic affairs.
Throughout his academic career, he has contributed service to the profession through serving as a senior member of the Institute of Electrical and Electronics Engineers (IEEE) and past associate editor for the IEEE Transactions on Fuzzy Systems. Dr. Malki was the general chair for the 1997 ASEE/GSW Conference and one of the co-chairs of 1997 ICNN-IEEE International Conference on Neural Networks. He served as chair of the ASEE electrical and computer engineering technology division head from 2017-2019. He received a Fulbright International Education Administrative Program – France grant in 2016. Additionally, Dr. Malki received a UH Global Faculty Award in 2019.
Dr. Malki is dedicated to advancing education of undergraduate and graduate students in STEM through numerous external grants from the NSF, NASA, DoD, and the Texas Workforce Commission, where he served in different capacities as a PI or a Co-PI. His research interests include applications of neural networks, fuzzy logic controllers, and the design of fuzzy logic controllers for industrial applications. He spent two summers at the NASA Ames Research Center as part of the ASEE-NASA Fellowship program to work on vibration control of UH-60 helicopters in 2002 and 2003.