Graphic Communications Technology: Where it All Began
In an era when it is common to hear that Graphic Communications programs have been curtailed or closed, it is refreshing and exciting to know that a baccalaureate-level Digital Media program is thriving at the University of Houston. This development becomes even more inspiring when one considers that the motivation to begin the program came not from the University, but from the local graphic arts community. This industry involvement, coupled with the University of Houston's location in a major city in a state in which printing is booming, made the program unique in printing education. For many years, Houston-area printers were concerned that Texas colleges produce too few printing technicians and even fewer leaders. Printers in many areas of the country voice the same concern. However, instead of simply complaining, Houston's printers "put their money (and time) where their mouth is." In 1982, the Texas Printing Education Foundation (TPEF) was formed under the auspices of the Printing Industries of the Gulf Coast (PIGC). TPEF's board of directors, chaired by Mr. Jim White (see photo at left), was comprised of representatives from prominent printers as well as representatives of the Houston Litho Club. The TPEF was charged with providing educational opportunities for both technicians and management-level workers.
1982 - The TPEF Begins Offering Classes
Soon after it was formed, the TPEF began offering a variety of short-term non-credit technical and administrative courses in subjects that included estimating, press operation, and desktop publishing. These courses were offered each semester and were largely successful in providing skills upgrading for industry personnel. However, the need to prepare well-educated and degreed supervisors was not as easily met. The TPEF initiated discussions with representatives from the University of Houston's Technology Division at the Cullen College of Engineering regarding the establishment of a sequence of courses designed to prepare supervisors for printing and publishing firms. Through these discussions, it became clear that, in an era of declining higher education revenues, major funding for the program could not come from the University. Rather than surrendering, the TPEF set out to raise the money necessary to fund the curriculum they wanted. They succeeded in obtaining the support of local printing firms and the Houston Litho Club, sponsor of Houston's Southwest Graphics Show. This support generated cash.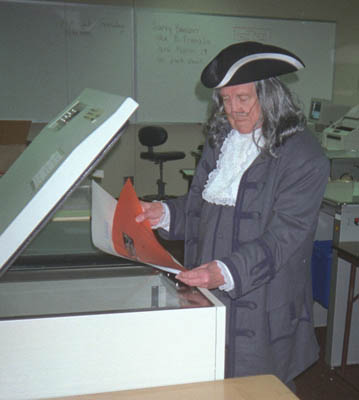 1993 - Dr. Jerry Waite Joins the University
Fortified with financial backing, the TPEF again approached the University's Technology Division at the Cullen College of Engineering. In 1990, the Foundation pledged a $30,000 start-up grant as well as an additional $120,000 over four years to help pay a professor's salary and defer operational costs (this $150,000 pledge was paid off in October of 1996). The College launched a nationwide search for a graphic communications technology professor/coordinator in 1992. In early 1993, the faculty of the College and the TPEF agreed to ask Dr. Jerry Waite to join the University as a tenure-track faculty member. Dr. Waite, a graphic-arts instructor who had accumulated 19-years of teaching experience at the Don Bosco Technical Institute in Rosemead, California, was asked to formulate an appropriate sequence of courses, recruit students, oversee the outfitting of laboratory facilities (shown on right with "Ben Franklin" [aka Harry Benson] using the first donated machine - an OVAC exposure unit) and build the program to a position of national prominence. He accepted the offer because the opportunity to start a brand new curriculum was both challenging and exhilarating. He arrived in Houston in August 1993 and began preparing the new curriculum.
1993 - Curriculum and Goals Established
The original graphic communications technology curriculum (GRTC) was an area of emphasis in the Technology Leadership and Supervision (TLS) Program. It was designed to prepare professional supervisors and managers for the highly unique and specialized printing and publishing industry, which is ranked among the largest industries in the United States. Individuals who wish to lead printing and publishing businesses need a broad understanding of graphic communications processes from ideation through image preparation, reproduction, and finishing. In addition, they need a background in supervisory theory and methodology. Because no other baccalaureate-level graphic communications technology program that specialized in supervision existed in the state of Texas, the need for printing supervisors was acute. To satisfy this need, the Department aspired to become the premier center for graphic communications technology in the Southwest. The department's goal was to compete with the nationally known and respected programs offered by California Polytechnic State University, San Luis Obispo, and by Rochester Institute of Technology.
The faculty of the Industrial Technology Department (now the Information and Logistics Technology [ILT] Department) worked with the TPEF and the Printing Industries of the Gulf Coast to construct a sequence of graphic communications-specific courses that met the needs of the printing and publishing industries. Graphic Communications Technology (GRTC) courses covered printing processes as well as electronic publication, prepress, press, finishing, and costing activities. Approval for the specialization was acquired from the TPEF (acting as the advisory committee) and the faculty of the Department. The graphic-specific courses were then approved by the College, the University, and the Texas Higher Education Coordinating Board. After the curriculum was originally established in 1993, the GRTC courses were reviewed and updated on a regular basis by a committee composed of representatives of the Information and Logistics Technology Department, the TPEF, Printing Industries of the Gulf Coast, other industry leaders, local "feeder" school instructors, and GRTC alumni.
In addition to the GRTC area of emphasis, Graphic Communications Technology students completed several management-related courses to complete their degree in Technology Leadership and Supervision (now Organizational Leadership and Supervision). TELS core courses included production control, human resource management, logistics, quality control, leadership, and leading technological change in the workplace.
To serve students majoring in other fields, a fifteen semester-hour Graphic Communications Technology minor was created by the Technology Division. This minor was recommended to students who majored in journalism, fine arts, graphic design (studio arts), computer science, information systems, CADD, and architecture.
Courses offered by the GRTC program also served students in other majors. In particular, most students completing majors offered by the Information and Logistics Technology Department took Visual Communications Technology, a course that offered students the opportunity to learn how to use graphic design principles in their personal and business endeavors.
Besides providing instruction for the University of Houston students, GRTC had a strategic partnership with the North Harris/Montgomery County Community College District (now known as Lone Star College) so that students enrolled in desktop-publishing courses at Kingwood College could participate in GRTC courses through two-way interactive television. In addition, students enrolled in graphic design courses at the District's Kingwood Campus worked with UH faculty and staff to print their design projects on the Technology Division's conventional offset press.
By Fall 1998, Enrollment Totaled 54 Students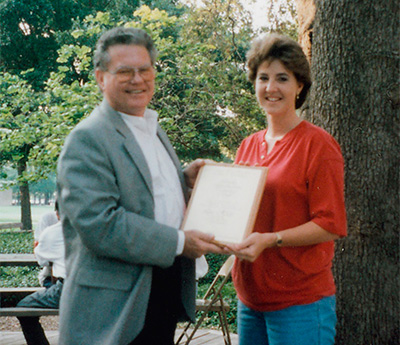 In fall 1998, the graphic communications technology specialization and minor were serving a total of 54 students. According to Texas Printer magazine, this enrollment was the largest of any four-year college printing-related program in the state of Texas. At that time, the number of courses offered each semester exceeded the teaching load of one full-time faculty member. Therefore, at least one course or lab was taught each semester by a part-time professional from the industry.
The first student graduated with a minor in graphic communications technology in 1995 (shown at left accepting a plaque from Mr. Don Piercy, a member of the TPEF Board of Directors). The first specialist graduated in 1996. By the end of the Spring 1999 semester, over 40 students had graduated with either a major or minor specializing in graphic communications technology.
New and Expanded Facilities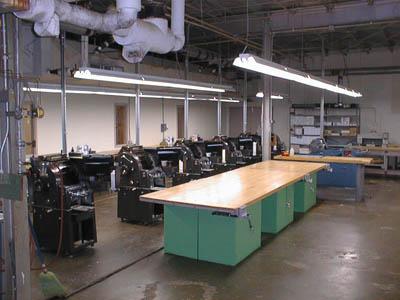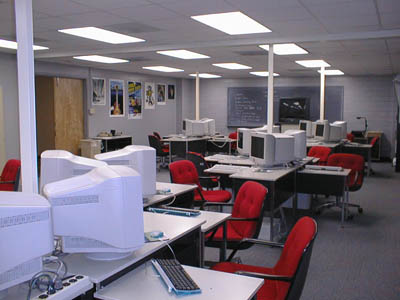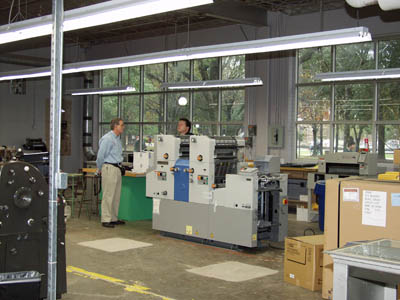 In 1998, Dr. Bernard McIntyre, then Dean of the Technology Division, commissioned a five-year strategic plan for Graphic Communications Technology (GRTC). The plan was completed by a committee composed of a cross-section of Texas Printing Education Foundation (TPEF) board members, GRTC alumni, representatives from the Printing Industries of the Gulf Coast, and the GRTC curriculum coordinator (Dr. Jerry Waite). The plan contained a thorough evaluation of the existing program and suggestions to make the program stronger. Two major recommendations were given: (1) to revise the course structure to make it even stronger, and (2) to expand the facilities to house an ever-growing student population.
Based upon the strategic plan, Dr. McIntyre allocated nearly 4,000 square feet of laboratory space in the 102 Wing of Building T (shown at left) to be used for GRTC courses. The space provided by the Dean is in a historically significant building known on campus as Technology I. Technology I was one of the original University of Houston buildings and was constructed in the late 1920's. During the 1940's, the building gained some notoriety because it was used by the military as the Houston-area training facility for personnel preparing to fight in World War II. It is reportedly one of the first air-conditioned classroom buildings built in the State of Texas.
Of the approximately 4,000 square feet allocated by the Dean to GRTC, 1,500 square feet (known as Rooms 102A-T and 102B-T) were occupied in Fall 1999. Digital prepress, multimedia, and web development classes were taught in Room 102A-T, shown at left in a 2001 photograph. Analog and digital photography, film assembly, platemaking, color management, and color output have all been taught in Room 102B-T. Room 102A-T accommodated 30 students and Macintosh workstations, as well as output devices and other peripherals.
The remaining 2,500 square feet, known as Room 102F, was occupied in 2000 and was used for image transfer—single and multicolor conventional and digital presses—as well as bindery and finishing equipment. In anticipation of the 2004 International Graphic Arts Education Association Conference, the Information and Logistics Technology Department, in 2003, purchased its first multi-color press, a Ryobi 3302-HA. The photo at left shows the machine being delivered prior to its installation in 102F.
Over the years, the Graphic Communications Technology laboratories were filled with a variety of state-of-the-art equipment that was updated on a regular basis.
Digital Media: The Vision Becomes a Reality
Recognizing the trend to distribute graphic content through multiple media, the GRTC faculty and staff, in 2005, began to create a new program that would prepare students to manage communications projects that integrate internet, photographic, videographic, and computer graphics communications channels with conventional print technology.
Working with an active Advisory Board, Dr. Jerry Waite and his colleagues envisioned a program that would combine team and project leadership skills with digital media technology skills. Graduates would then be able to manage digital media projects so that the right message is sent to the right person at the right time with the right media. The essence of this process is personalization. Thus, database skills were also included in the mix.
Between 2005 and 2007, courses were developed, critiqued, and improved through extensive collaboration with faculty, staff, and advisors. Then, in 2007, a Substantive Change document was written to justify to the State of Texas' Higher Education Coordinating Board (THECB) the need for a baccalaureate degree based upon the shared vision of faculty and advisors. During that process, the moniker Digital Media was chosen to best represent the program.
The original Digital Media program, which was in effect from 2009 until 2012, required 42 semester hours of university core courses, 75 hours of major requirements, and 3 hours of electives. The major requirements included 42 hours of Digital-Media-specific coursework, 3 hours of Information Technology, 9 hours of Supply Chain classes, and 15 hours of Technology Leadership courses. The remaining six hours were mathematics courses so that the degree would qualify for bachelor of science status.
Between 2007 and 2009, the Substantive Change document worked its way through departmental, college, and university committees, was approved by the University of Houston Board of Regents, and was sent to the THECB. Authorization was given by the THECB to begin offering the Bachelor of Science in Digital Media degree in Fall 2009. At that time, six students, who were already specializing in Graphic Communications Technology in the Technology Leadership and Supervision program, became the first Digital Media Majors. The first graduate from the new Digital Media program received her degree in Spring 2010.
The Digital Media Program grew explosively. By Fall 2010, there were 60 majors, followed by 94 in Spring 2011, 149 in Fall 2011, and 184 in Spring 2012. During the same timeframe, the enrollment in Digital Media classes grew to exceed 325 per semester. By 2015, over 350 students were majoring in Digital Media.
Digital Media: Reinvented for a Growing Market
By Spring 2011, it was obvious that the Digital Media program was viable and was ready to expand even further in order to handle the increasingly-large student body. Thus, the faculty and staff, in cooperation with the Advisory Committee, created a core/track program in which all majors would acquire a core understanding of digital media and then be allowed to choose an area of emphasis within the field. These areas of emphasis are:
print media
eMedia (ePublishing, object-oriented programming, internet application development)
motion media
eCommerce
packaging
This expanded degree plan was approved, during 2011 and 2012, by the departmental, college, and university committees and went into effect in Fall of 2012. Further refinements completed the degree plan.
Added Faculty Members Bring New Skills
As the Digital Media program grew, so did its faculty. In 2005, Professor Monika Zarzycka brought her graphic design and computer graphics talents to the faculty…along with her exotic eastern-European accent, high fashion sense, and ever-changing hairstyles. She quickly became a favorite of the students, expanded her skills to include eMedia, and currently leads the ePublishing and eCommerce areas of emphasis within the Digital Media Program.
In 2013, Disney's Jiminy Cricket (no lie), in the form of humanoid Phil Snyder, brought his 1,000 voices and his filmmaking and animation skills to the program. Phil became an instant hit among the students and currently leads the Motion Media area of emphasis. With Phil at the helm, the Motion Media courses have expanded to include 2D and 3D animation as well as transmedia.
Fall 2014 saw yet another expansion to the Digital Media faculty when Jean Pierce joined the faculty full time to teach Packaging. Prior to her appointment as a UH professor, Jean was in the global marketing organization at Hewlett Packard and had a history of strategic marketing management. In cooperation with the Institute of Packaging Professionals, Jean created the Packaging Area of Emphasis and teaches the courses she created.
In 2015, Digital Media branched out into the fields of gaming, simulation, and app development with the hire of Professor Jose Baez-Franceschi. Jose planned and implemented the Simulation and App Development area of emphasis within the Digital Media degree. Soon later, he began teaching those courses while conducting research in virtual reality.
Jim de Vega, an MFA alumnus from the UH School the Art, joined the faculty in 2018. and became the lead professor for all the Digital Media program's art and design courses. Jim brings an unbridled passion, coupled with the eye and talent of a top-level designer, to his classes. He's well regarded by his students, who often call upon his teachings as they develop real-world projects.
Recognizing that User Experience Design is the key to reaching the right people with the right message, UH hired Dr. Elizabeth Rodwell as a tenure-track Digital Media assistant professor in the Fall of 2019. Grounded with degrees in Media studies, Liz earned her doctorate in Anthropology from Rice University. Liz developed and teaches a course in User Experience Research and also teaches our introductory course. Her research interests lie in usability research and designed a new research lab housed in the SAB1 Technology Building in Sugar Land. Liz developed and teaches a course in User Experience Research and also teaches our introductory course. Her research interests include usability within the medical industry and artificial intelligence, and her new usability lab began construction in September 2020. 
Digital Media Flies the Coop and Lands in Sugar Land
Due to the explosive growth of the Digital Media program, the facilities that once housed the program on the University of Houston's Central Campus could not handle student demand. In an effort to provide the program with sufficient space, then Technology Division Dean William Fitzgibbon arranged for the program to acquire laboratory and office facilities on the University of Houston's satellite campus in Sugar Land, Texas.
Beginning in Fall 2012, the Digital Media program began to occupy space in the Albert and Mamie George Building. The building, which was opened for classes in 2002, has three floors, and encompasses over 57,000 square feet of classroom, administration, and office space.
During the 2012–13 academic year, the DIGM program was co-located on both Central and Sugar Land campuses. The first course taught in Sugar Land was DIGM 3351. The course's lecture portion was originated in Sugar Land in a multi-media classroom and transmitted to a satellite classroom on Main Campus. Lab sections of the same course were taught both on Main Campus, in 102A-Technology Annex, and in room 320 in Sugar Land. At the time, room 320 had 20 Macintosh workstations and a tabloid-sized color laser printer.
Between Fall 2013 and Spring 2014 DIGM faculty and staff, with the able assistance of Technology Division and Sugar Land IT staff, opened a second Macintosh lab in the George Building, room 218. Room 218 became the "basic" lab, and was outfitted with 30 Macintosh workstations. Classes in computer graphics, web design, photography, page layout, black-and-white prepress, ePublishing, and integrated media were taught in 218. Room 320 became the "advanced" lab and was outfitted with Mac Pro computers each driving two monitors. It was used for color prepress, videography, animation, and transmedia.
During 2014, room 201 became the photography/videography studio. It is outfitted with photographic backdrops, a green screen, copy stand, video rendering station, and both HD and UD monitors, most of which were moved from Main Campus room 102B-Technology Annex. In addition, the conventional and digital printing equipment were moved from room 102F-Technology Annex on Main Campus to Sugar Land and installed in Room 110.
Overcrowding in Room 110 led the campus administration to provide Digital Media with yet another dedicated lab in Spring 2015. This lab, room 219, became the home of our digital output devices, package prototyping desktop die cutter, platesetter, and workbench space that is used by packaging students to do hand work as necessary.
Digital Media continued to grow in student enrollment and, by 2020, had outgrown its facilities in the George Building. With the support of Dean Anthony Ambler, multiple large and spacious laboratories were provided to the program in the brand-new 100,000 square foot Technology Building on the UH at Sugar Land campus. Occupying the majority of the southern wing of the second floor of the SAB1 building, Digital Media's upper-division computer lab became the "Pre Media Design Studio" in Room 244 while all the digital output equipment moved into the "Digital Manufacturing Lab" in Room 246. In addition, the freshman and sophomore computer classes moved into Room 243 and Room 245 became the photography/videography studio.