Graduation Events Timeline
Tuesday, December 15, 2020, 10:00-1:00pm & 3:00-6:00pm

CoT Graduate Curbside Bash, CoT building parking lot, UH at Sugar Land

Wednesday, December 16, 2020, 10:00-1:00pm & 3:00-6:00pm

CoT Curbside Gift Pickup (if unable to attend Curbside Bash), in front of CoT buildings on Main Campus

Thursday, December 17, 2020, 7:00 pm

University-Wide Spring, Summer and Fall 2020 Commencement

December 19, 2020, 5:00 pm

CoT Virtual Graduation Celebration
To celebrate your amazing achievement, the Technology Division has put together a special virtual graduation celebration for the summer Class of 2020!
The celebration will feature messages from the Dean, faculty, staff, and alumni, as well as a chance to hear your name called as we show a special slideshow created by YOU!
Virtual Graduation Celebration Video
Reading of Names for Technology Division
If you missed the live celebration, view it on YouTube.
Summer/Fall 2020 CoT Graduate Curbside Bash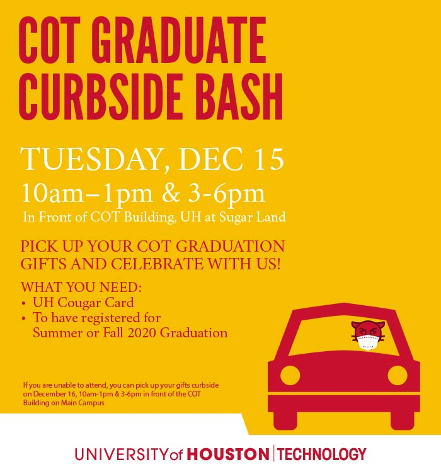 Come celebrate your amazing accomplishment with us at a Curbside Bash in the parking lot of the Technology Division building at UH at Sugar Land! We will be passing out gifts to our graduates, including a Technology Division cube and a challenge coin. We will also have a photo booth set up so that you can take pictures with our special guests, including Dean Ambler!
Graduates will drive through to receive our congratulations. We encourage you to wear your regalia, make signs, or decorate your cars!
Everyone must stay in their vehicles, except graduates when at the photo booth.
To receive your gifts, graduates must bring their UH Cougar Card and have registered for summer or fall 2020 graduation from the Technology Division.