Faculty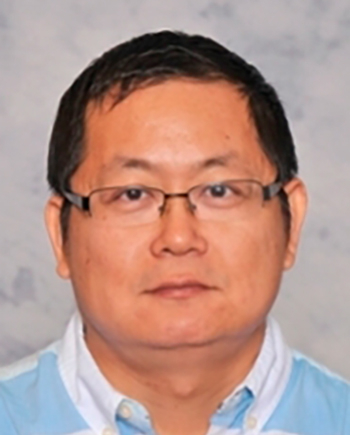 Weihang Zhu
Professor
Mechanical Engineering Technology
Email
wzhu21

[at]

central.uh.edu
Education
Ph.D. Industrial and System Engineering, North Carolina State University, 2003.
M.S. Mechanical and Energy Engineering, Zhejiang University, China, 2000.
B.S. Energy Engineering, Zhejiang University, China, 1997.
Research Interests
Computer-aided Design and Manufacturing (CAD/CAM), Smart Manufacturing, 3D Printing
The fundamental research in computational geometry has led to much result in surface and volumetric object modeling. It has found its applications in design and manufacturing, medical simulation, virtual reality and haptics. High performance computing can be achieved with desktop parallel computing by using graphics hardware acceleration, which will result in a transformative change in the field of parallel computing. We have successfully introduced hardware acceleration into our algorithms and implementation and achieved significant improvement in geometric processing speed. Our research efforts have resulted in many publications in this field. We also work with local schools and education service center for region 5 to help them obtain research experience in advanced design and manufacturing, convert what they learn to engineering curriculum in K-12 education.
Haptic-augmented Learning for Engineering Education
Research indicates that students often have difficulty in understanding science and engineering concepts and instructors, likewise, have difficulty in conveying these concepts without effective teaching tools. Computer-mediated instructional technologies, typically in Virtual Environments, hold great promise for use in educational settings in that they can increase students' access to knowledge and act as vehicles that may promote learning. Recent advances in Virtual Reality and robotics enable the human tactual system to be stimulated in a controlled manner through 3-dimensional (3D) force feedback devices, a.k.a. haptic interfaces. With the addition of haptic (sense of touch) feedback, Virtual Environment / Virtual Reality technology has much greater potential to profoundly change the nature of inquiry in Science, Technology, Engineering and Mathematics (STEM) education. In addition, the cost of 3D haptic interface with authentic force feedback continues to drop, which facilitates its wide adoption as the affordable next-generation human-computer interface.
Haptic, Robotics, Virtual Reality-based Medical Simulation, Augmented Reality, Brain-Computer Interface
Surgical simulation and anasthesia simluation projects (consulting with Industry). This is a Surgical simulator developed by Dr Zhu with mySmartSim Inc. With the advance of mobile computing technology and Augmented Reality (AR) hardware, AR is more promising than ever for many applications. The Zhu lab has acquired many latest VR/AR facilities. The group is also working on 3D printer design and optimization, and prosthetics for rehabilitation.
GPU-accelerated Computational Optimization
Our research group is working on Graphics hardware (a.k.a. Graphics Processing Units, GPU) accelerated computational optimization research. GPU technology is emerging as a desktop parallel computing platform that is available on many personal computers. We combine GPU technology with our research in meta-heuristics, such as Genetic Algorithms and Tabu Search, which are generic stochastic optimization algorithms for all kinds of applications in continuous optimization and combinatorial optimization.
Mobile Computing Research and Development
Our research group is interested in mobile computing research and development. One project is funded by National Science Foundation DUE-1140457 to develop and assess smartphone apps for Engineering Economics.The Lamar University team consists of Dr. Albero Marquez, Dr. Julia Yoo and Dr. Weihang Zhu.
Energy Manufacturing and Production Scheduling Optimization
Our research group is interested in energy efficient manufacturing and optimization. Topics include Natural Gas Pipeline optimization and Energy-efficient production scheduling in industry.
Mariner Safety
Our research group provides information technology support for the Mariner Safety Leading Indicators research in the Maritime Safety Research Initiative. The series of multi-years projects are in collaboration with American Bureau of Shipping. The Lamar University team consists of Dr. Brian Craig, Dr. James Curry and Dr. Weihang Zhu.
Port Management
Our research group is interested in simulation of port operations, maintenance, expansion, logistics and disaster recovery; and big data-driven fuel consumption optimization in ships. We are actively involved with the Center for Advances in Port Management.
Current Funding:
Co-PI, Maritime Prototype Leading Safety Indicators, American Bureau of Shipping, PI Dr. B. Craig, Co-PIs Dr. J. Curry and Dr. W. Zhu, Sept 2010 to Present
Co-PI, Mariner Safety Analysis, American Bureau of Shipping, PI Dr. B. Craig, Co-PIs Dr. J. Curry, Dr. W. Zhu and Dr. K. Das, Sept 2009 to Present
Past Funding:
Faculty mentor, Lamar University Undergraduate Research Grant, Nov 2017 to May 2018, PI Aleksander Allen
PI, National Science Foundation DUE-1608886, RET Site: Incorporating Advanced Design and Manufacturing into High School Curriculum, with Dr. X. Fan, Dr. N. Brake, Dr. J. Zhou, Dr. X. Liu, and Dr. X. Li, Sept 2016 to Aug 2019, $555,380
PI, National Science Foundation DUE-1457880, Industrial and Mechanical Engineering Scholars with Scholarships, Career Mentoring, Outreach and Advisement, Professional Societies and Engineering Learning Community (SCOPE), with Dr. J. Curry, Dr. B. Craig, Dr. J. Zhou and Dr. H. Chu, Sept 2015 to Aug 2020, $625,300
PI, Distinguished Faculty Fellowship - Teaching, and Teaching Innovation Grant, Lamar University, Sept 2015 to August 2018
Faculty mentor, Lamar University Summer Undergraduate Research Fellow Grant, April 2017 to November 2017, PI Aleksander Allen
Faculty mentor, Lamar University Undergraduate Research Grant, Nov 2016 to May 2017, PI Aleksander Allen, co-mentor Dr. Hassan Zargarzadeh
PI, Lamar University Research Enhancement Grant, Sept 2015 to August 2016
PI, Gill Foundation, Prosthetic Hand Design with 3D Printing, June 2015 to May 2016
PI, Gill Foundation, 3D Printing, Virtual Reality and Augmented Reality Contest, June 2015 to May 2016
PI, Multi-method Simulation Framework for Port Operations, Expansion and Disaster Recovery, Center of Advances in Port Management, March 2016 to May 2017
Co-PI, Development of the ASTM Standard for Injury and Illness Data Collection and Reporting and the ASTM Standard for Near Miss Collection and Reporting, Ship Operations Coopera-tive Program (SOCP), Woodinville, Washington, PI Dr. B. Craig, Co-PIs Dr. J. Curry and Dr. W. Zhu (2014 - 2018)
PI, National Science Foundation DUE-0737173 'A Study of the Impact of Haptic-augmented Learning Tools on Dynamics Course', Co-PI Dr. J. Zhou, Dr. K. Aung and Dr. M. Srinivasan, Apr 2008 to Mar 2010
PI, Lamar University Research Enhancement Grant, Sept 2010 to Aug 2011
PI, Lamar University Research Enhancement Grant, Sept 2009 to Aug 2010
Co-PI, Wood Procurement Optimization for a paper mill (PI: Dr. J. Curry, Co-PI: Dr. A. Marquez), June 2008 ~ Nov. 2008
PI, Lamar University Research Enhancement Grant, Dec 2006 to Aug 2007
PI, Lamar University Research Enhancement Grant, Dec 2005 to Aug 2006
PI, 'Agent-based Modeling and Simulation for Hazardous Waste Reverse Logistics', Texas Hazardous Waste Research Center, Co-PI Dr. J. Curry and Dr. H. Lou, Sept 2008 ~ August 2009
PI, Lamar University Online Teaching Grant for 'Engineering Materials and Manufacturing Processes', Sept 2011 to Dec 2012
Co-PI, ABS Safety Survey and Analysis, American Bureau of Shipping, PI Dr. B. Craig, Co-PIs Dr. J. Curry and Dr. W. Zhu, June 2012 to Dec 2012
Co-PI, National Science Foundation DUE-1140457, Multimedia Learning of 'Engineering Economics' through Role Play Gaming on a Mobile Platform, PI Dr. A. Marquez, Co-PIs Dr. J. Yoo and Dr. W. Zhu, May 2012 to April 2016, $191,505
Co-PI, Facilitating Active Learning with Inverted Classroom, Lamar University, PI Dr. J. Zhou, Co-PIs Dr. K. Aung, Dr. W. Zhu and Dr. X. Liu, Sept 2015 to August 2016
Sponsors:
American Bureau of Shipping
Center for Advances in Port Management
Gill Foundation
Lamar University
MeadWestvaco
National Science Foundation
Ship Operations Cooperative Program
Texas Hazardous Waste Research Center
Awards & Honors
Dr. Zhu received a software grant ($120,000) from Simio LLC (2018-2020)
Dr. Zhu worked with undergraduate student Aleksander Allen to receive a LU OUR grant on Prosthetic hand (2017-2018)
Dr. Zhu worked with undergraduate student Aleksander Allen to receive a LU SURF grant on Prosthetic hand (Summer 2017)
Dr. Zhu worked with undergraduate student Aleksander Allen and Dr. Hassan Zargarzadeh (EE) to receive a LU OUR grant on Prosthetic hand (2016-2017)
Dr. Zhu received the NSF grant #1608886: EEC-RET Site Program
Dr. Zhu received a REG grant from Lamar University on production scheduling in food industry
Dr. Zhu received two grants from Gill Foundation about 3D Printing and Virtual Reality / Augmented Reality
Dr. Zhu received a grant from Center of Advances in Port Management on port simulation modeling
Dr. Zhu received the NSF Grant #1457880: SCOPE Scholarship Program
Dr. Zhu is selected as Distinguished Faculty Fellow 2015-2018 at Lamar University
Dr. Zhu served in 14 NSF panels since 2008 and 5 NIH panels since 2012
Dr. Zhu received the NSF Grant #1140457 on using mobile apps for engineering education
Surgical simulator developed by Dr Zhu with mySmartSim Inc.
Dr. Zhu received the University Merit Award 2009 at Lamar University
Alem Demissie, Weihang Zhu, Chanyalew Taye Belachew, A Multi-objective Optimization Model for Gas Pipeline Operations, Computers and Chemical Engineering, doi: 10.1016/j.compchemeng.2017.02.017
Arash Abedi, Weihang Zhu, Integrated Planning Modeling of Purchase, Production and Distribution for Fish Supply Chain - A Case Study, International Journal of Production Research, doi: 10.1080/00207543.2016.1242800
Julia Griffin, Weihang Zhu, Chang S. Nam, The Role of Haptic Feedback in Retinal Microsurgery Systems: A Meta-Analysis, IEEE Transactions on Haptics (Impact factor 1.031, the flagship journal for haptics), doi: 10.1109/TOH.2016.2598341
Ezra Wari, Weihang Zhu, Multi-week Production Scheduling for an Ice Cream Processing Facility, Computers and Chemical Engineering (Impact factor 2.581), doi: 10.1016/j.compchemeng.2016.07.025
Ge Jiang, Dingzhong Feng, Weihang Zhu, A Large and Heavy Cargo Transport System Designed for Small and Medium Ship Maintenance and Repair, Journal of Ship Production and Design (the flagship journal for ship production research), 32 (4), pp. 1-9, doi:10.5957/JSPD.32.2.160019; Received the Best Paper Award from the 15th Annual Meeting of China Society of Logistics
Xinyu Liu, Weihang Zhu, Development of a Fiber Optical Occlusion Based Non-contact Automatic Tool Setter for a Micro-milling Machine, Robotics and Computer Integrated Manufacturing, , v 43, p 12-17, February 1, 2017, doi:10.1016/j.rcim.2016.04.002
Weihang Zhu, Alberto Marquez, Julia Yoo, "Engineering Economics Jeopardy!" Mobile App for University Students, Engineering Economist, Vol. 60, Issue 4, 2015, Pages: 291-306, DOI: 10.1080/0013791X.2015.1067343