Faculty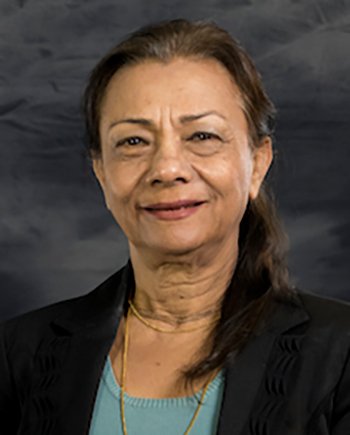 Anima Bose, PhD
Associate Professor
Mechanical Engineering Technology
Biography
My teaching and research activities and interests are in the frontiers of renewable energy sources. My research primarily focuses in the areas of integrated fuel cell technology, energy storage materials, ion conducting membranes, thin-film coating. In the area of Proton Exchange Membrane Fuel Cells, our focus is primarily to produce cost effective and durable fuel cells by addressing three major challenges: (1) reduce catalyst cost, (2) mitigate water flooding, and (3) produce oxidation resistant supporting materials. To reduce the cost of catalysts in fuel cells, my laboratory is developing new nano-catalysts by reducing the amounts of platinum. We have successfully developed thin-film catalyst which is being incorporated in the proton exchange membrane fuel cells. To mitigate water flooding, we have also reengineered membrane electrode assembly (MEA) by incorporating siloxane polymers to make durable fuel cells. These reengineered MEAs showed exception promise to alleviate water flooding. To prolong the life-time of fuel cells, we have also developed oxidation resistive new supporting materials, boron-carbon meso-spheres that exhibit higher electrical conductivity than carbon nanotubes. For Intermediate Temperature Fuel Cells, we are developing new electrolytes and catalysts.
My laboratory has also designed power distribution sources for hybrid vehicles by using fuel cells, batteries, and ultracapacitors. Our design indicates that mid-size hybrid vehicle can be driven over 200 miles without recharging battery or using gasoline. Finally, we are developing coating technology to coat super conducting wires and cables.
All these work have appeared in various journals of international reputation such as Journal of Power Sources and Journal of the American Chemical Society. Intellectual properties produced from my laboratory deal with (1) hydrogen sensor, (2) nano-catalyst, (3) re-engineered MEA, (4) supporting materials for battery and fuel cells, and (5) power sources for hybrid vehicle.
Education
Ph.D., Analytical Chemistry—Specialized in Materials Engineering, Kent State University, Kent, OH
M.S., Solid State Physics, Georgetown University, Washington, D.C.
M.S., Solid State Physics, Rajshahi University, Bangladesh
B.Sc. (Hon), Rajshahi University, Bangladesh
Professional Experience
Associate Professor, Department of Engineering Technology, University of Houston, Houston, TX; September 2011—Present

Member of Texas Center for Superconductivity
Member of Advanced Materials Center

Research Assistant Professor, Institute of Sustainable Energy and Department of Chemical and Biomolecular Engineering, Ohio University, Athens, OH; September 2008—August 2011

Assistant Director of Center for Electrochemical Engineering Research Decelopment
Member of Center of Advanced Materials Processing (CAMP)

Associate Director Fuel Cell Initiative and Joint Associate Professor, Department of Mechanical Engineering, Northern Illinois University, DeKalb, IL; September 2003—August 2008
Visiting Scientist, Argonne National Laboratory, Argonne, IL; October 2004 - August 2008
Postdoctoral Fellow, Polymer Science Institute, University of Akron, Akron, OH; September 2002—April 2003

Worked on synthetic and oxygen transport mechanism of Biomembranes; artificial membrane for kidneys and pancreas

Visiting Professor, Department of Chemistry, Kent State University, Kent, OH; June 2001—August 2002

Developed and Taught Chemistry and Physics in Energy

Research Fellow, Kent State University, Kent, OH; December 2000—May 2001

Novel hybrid inorganic-organic semiconducting materials

Teaching Assistant, Chemistry Department, Kent State University, Kent, OH; August 1998—December 2000
Research Specialist, Liquid Crystal Institute, Kent State University, Kent, OH; May 1997—August 1998

Preparing and characterizing electro-optical properties of polymer dispersed liquid crystal films (Dia Nippon Printing Co. Ltd, Japan)
Professional Service & Affiliations
Electrochemical Society
American Chemical Society
Research Interests
My research focuses on developing clean, alternative energy technologies that have commercial applications and long-term benefits for the environment. I am passionate about creating a society that embraces a sustainable energy mindset, and consciously considers how energy choice impacts our social and physical environment. I have aligned my personal, academic, and research life with these goals, and am actively searching for novel, sustainable energy technologies via multidisciplinary approaches. Since my research and education at the University of Houston is focused on building a sustainable energy program. To this end I have dedicated my research development in:
Hydrogen/Fuel Cell Technologies
Ion conducting membranes
Thin film coating
Advanced ceramic processing techniques
Regenerative tubular solid oxide fuel cells (SOFC)/ solid oxide electrolysis (SOEC)
Enhanced proton conductivity of intermediate temperature fuel cells (ITFC)
Partial oxidative (POx) reformation and combustion-reformation of hydrocarbons
Carbon Dioxide Electrolysis
Fuel cell stack design: PEMFC & SOFC
Methane feed stock upgrading
Combustion and reforming analysis of hydrocarbon fuels
Fuel cell system integration in oil and gas exploration and production
Advanced electrochemical analysis
Long term analysis of fuel cells; endurance and degradation studies
Development and synthesis of materials and catalysts; energy storage and device development
Patents
A. B. Bose, "Composite Membrane for Polymer Electrolyte Membrane Fuel Cell", U.S. Patent and Trademark Office, Patent # 9,142,842, 2015.
A. B. Bose and J. Yang, "Microspheres and Their Methods of Preparation," US Patent and Trademark Office, US Utility Patent #8,986,836; Issue date: March 24, 2015.
A. Bose, D. Zinger, and H. Yu, "Active Electrical Power Flow Control System for Optimization of Power Delivery in Electric Hybrid Vehicles" U.S. Patent 8080971, 2011.
M. Haji-Sheikh, A. Bose and L. Wardzala, "Nano-porous Alumina Sensor," Patent US20100031745 A1.
R.N. Bose and A. Bose, "Metal Coated Carbon Surfaces for Use in Fuel Cells," U.S. patent No. 7,501,050B2, 2009 and US patent # 8449739B2, 2013.
A. Bose and R. Marin, "Methods of Preparing Metal Phosphate Composite catalyst," U.S. Patent and Trademark Office, Utility Patent Application No. 12/074,425, March 2008.
A.B. Bose, "Hydrophobic-cage structured materials in electrodes for mitigation and efficient management of water flooding in Fuel/Electrochemical Cells," US Provisional Application SN: 61/879,412; Filed on September 18, 2013. NPA (14/490,383) and PCT (PCT/US2014/056372) on 9/18/2014. U.S. Pub. No. 2015/0074989A1 March 19, 2015.
A. B. Bose and W. Li, "Mechanically stable composite electrolyte for intermediate temperature fuel cell with improved proton conductivity and methods, PCT/US2017/039549 filed on June 27, 2017; U.S. Prov. 62/355,028 filed June 27, 2016
Grants
| Name | Duration | Amount | Maker |
| --- | --- | --- | --- |
| PEMFC Prototype Development | 2017-2018 | $50,000 | University Houston Tech-Gap |
| Design of high performance membranes and composite electrocatalysts for intermediate temperature fuel cells | 2015-2016 | $15,000 | TcSUH |
| Fault Current Limiting Transformer | 2013-2014 | $650,000 | US Department of Energy and American Superpower |
| Design of catalyst and MEA for Intermediate Temperature Fuel Cells | 2014-2015 | $20,000 | TcSUH |
| Composite Membranes for Polymer Electrolyte Membrane Fuel Cell for Transportation Applications | 2013-2014 | $25,000 | TcSUH |
| Multi-Hybrid Power Vehicles with Cost Effective and Durable Polymer Electrolyte Membrane Fuel Cell and Li-ion Battery | 2010-2012 | $600,000 | US Department of Energy |
| The Principle and Design of Fuel Cell Technology | 2012 | $5,000 | UH- QEP Curriculum/Course Development Grant Program |
| Fuel Cells for Transportation Applications-Phase 2 | 2005-2008 | $740,000 | US Department of Transportation |
| Fuel Cells for Transportation Applications-Phase 1 | 2004-2006 | $750,000 | US Department of Transportation |
Selected Publications:
X. Cai, W. Li, A.B. Bose, V. Selvamanickama, Interfacial bonding enhancement of reel-to-reel selective electrodeposition of copper stabilizer on a multifilamentary second-generation high-temperature superconductor tape, Superconductor Science and Technology, 29,10,105018, 2016.
Wei Li, Anima B. Bose and Irene A. Rusakova, "An approach for restoring the proton conductivity of sintered tin pyrophosphate membranes for intermediate temperature fuel cells", Journal of Power Sources, 2016, 307, 146-151.
Anima B. Bose, Susmitha Gopu and Wei Li, "Enhancement of proton exchange membrane fuel cells performance at elevated temperatures and lower humidities by incorporating immobilized phosphotungstic acid in electrodes", Journal of Power Sources, 263 (2014) 217-222.
Anima B. Bose, Pradeep Baburi, Jennifer Mawdsley, Deborah Myers, and Romesh Kumar, "Performance of individual cells in PEMFC Stack under Load Cycling Conditions", Journal of Power Sources, 2013, 243, 64-972.
Zhihong Yu, Donald Zinger, and Anima Bose, "An Innovative Optimal Power Allocation Strategy for Fuel Cell, Battery and Supercapacitor Hybrid Electric Vehicles", Journal of Power Sources, 2011, 196, 2351-2359.
Anima B. Bose, Ruhulla Shaik, and Jennifer Mawdsley, Optimization of the performance of polymer electrolyte fuel cell membrane-electrode assemblies: Roles of curing parameters on Catalyst and ionomer Structures and Morphology, Journal of Power Sources, 2008, 182, 61-65.
A.B. Bose, M. Sarkar, R.N. Bose, Electrocatalytic reduction of platinum phosphate blue on carbon surfaces: A novel method for preparing fuel cell electrodes, Journal of Power Sources, 157 (2006) 188-194.
A.B. Bose, P. He, C. Liu, B.D. Elman, R.J. Twieg, S.D. Huang, A Strong Electron-Acceptor Methylviologen Dications Confined in a 2D Inorganic Host: Synthesis, Structural Characterization, Charge Transport and Electrochemical Properties of (MV)0.25V2O5, J. Am. Chem. Soc. 124 (2002) 4-5.
A.B. Bose, R.K. Gilpin, M. Jaroniec, Thermogravimetric and Nitrogen Adsorption Studies of Mesoporous Silica Coated with Siloxane Polymer, Interfac. Sci. 240 (2001) 224-228.