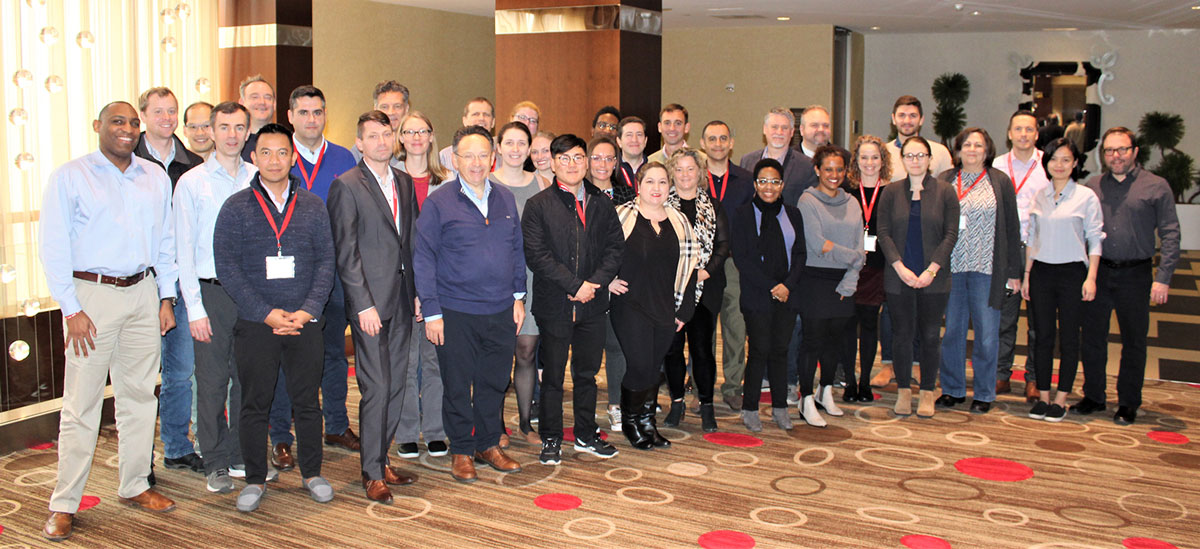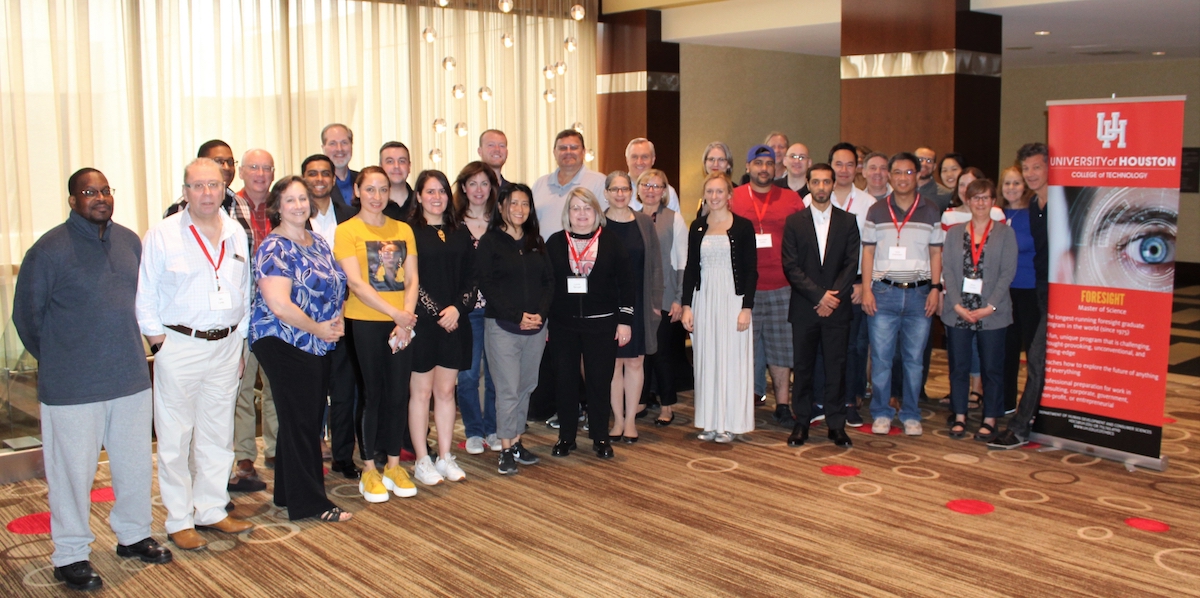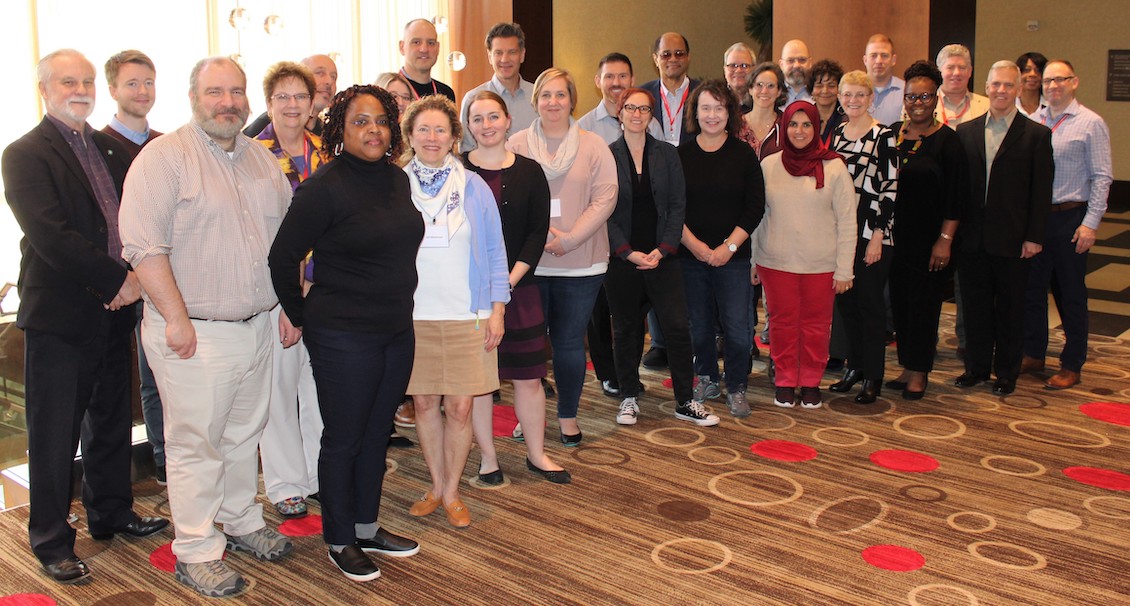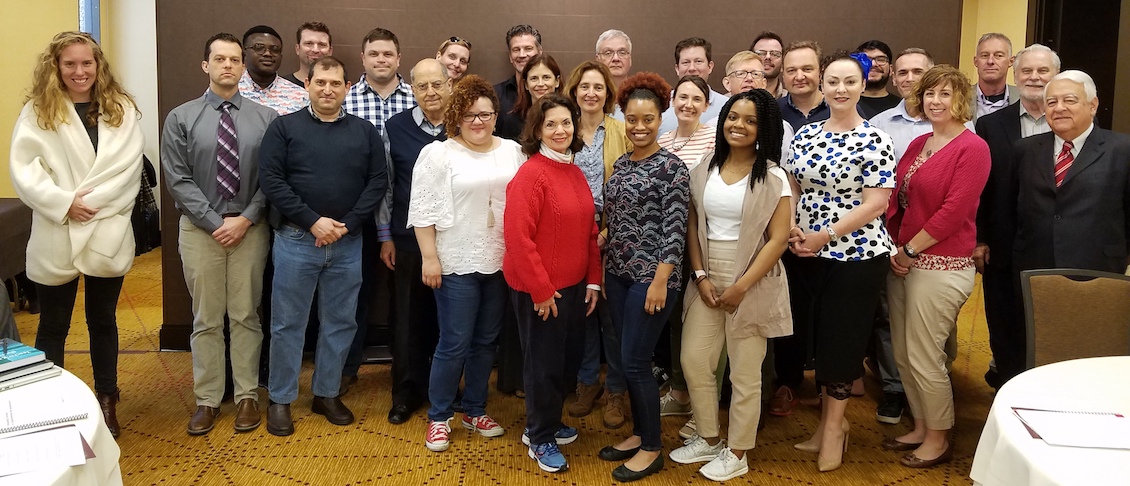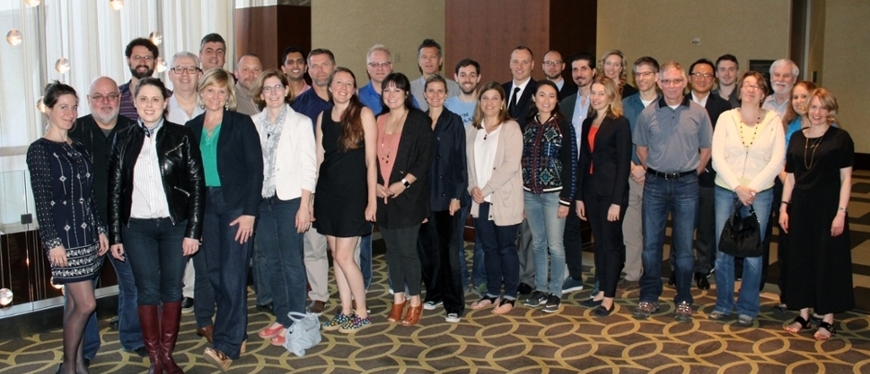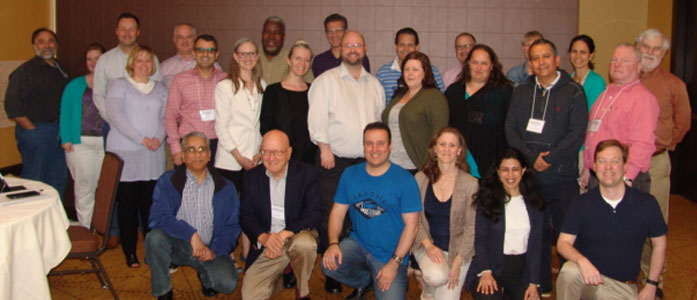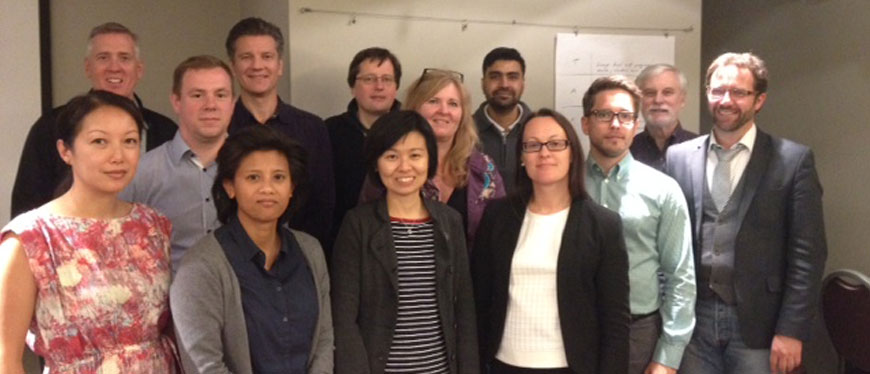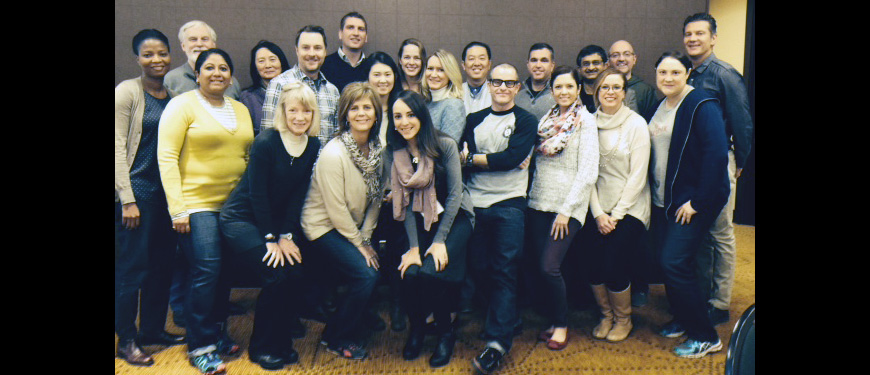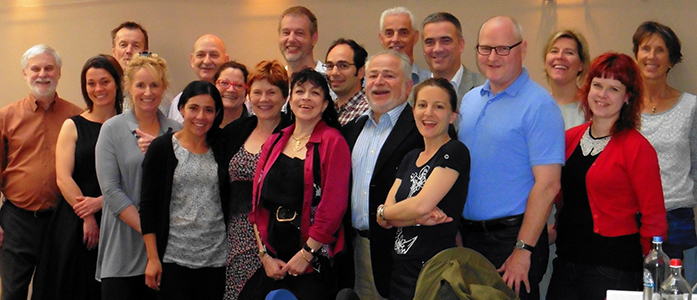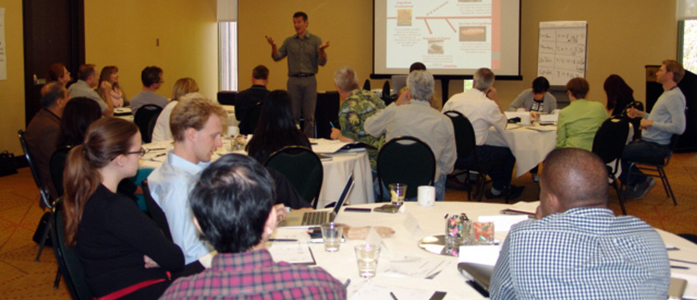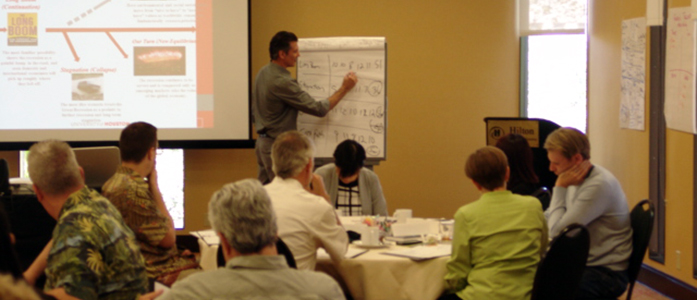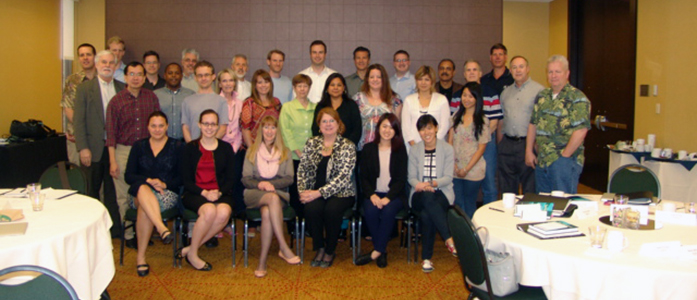 Overview
Houston Foresight Framework Foresight Video
This intensive 5-day, project-based boot camp is designed to immerse participants in the basics of doing foresight work. In this hands-on approach, participants take a sample project through our Framework Foresight process, with theory, exercises, and discussions salted in. Participants receive the textbook, Thinking about the Future, accompanying worksheets, a professional certificate in Foresight, and four (4) CEUs (Continuing Education Units) from the University of Houston for attending the seminar. Students can also obtain a separate departmental certificate of achievement if they complete a foresight project after program delivery, which qualifies as one criterion for full membership to the Association of Professional Futurists (APF).
"Foresight studies educates you in different aspects of thinking about how the world works, such as cause and effect through systems thinking, social change, and planning through scenarios. Studying foresight:

Energizes your creativity
Expands your connections
Exposes you to potential futures
Encourages you to be more aware
Enables your thinking processes to expand
Educates you in different aspects of thinking"
"I'm planning to hang this certificate in my office - my master's diploma is somewhere in my filing cabinet! Really enjoyed this program and having an opportunity to meet a very good faculty."

- Hannes Combest, FASAE, CAE, CEO at National Auctioneers Association
"Just wanted to say thanks for a terrific seminar last week. I enjoyed the material and presentation immensely and thought the group was a dynamic mix. It was a pleasure working with you and Peter. I figure there is a high plausibility of more foresight work in my future. Thanks for your time, insights and expertise."

- Dan Downey, Freelance Strategist
"The University of Houston's Foresight program gave me the models I needed to analyze the futures of my sector (market research) and the futures of other markets. Some of this thinking on the futures of market research has appeared in the Journal of Advertising Research (The Shape of Marketing Research in 2021), Quirk's Marketing Research Review (The rules of engagement: Lessons learned from creating an MROC for Millennials), and a chapter in an upcoming book on the subject (Leading Edge Marketing Research: 21st Century Tools and Practices)."

"Much thanks to Dr. Bishop for distilling years of study and practice into a week that is both insightful and actionable."

- Robert Moran, President US, Brunswick
Foresight Certificate Students
The number of professional certificate graduates has reached over 1,000 individuals and continues to grow.
Certificate students are diverse, not just professionally, but culturally and geographically as well. Around 40% of our graduates come from outside of the U.S. and all graduates have represented well over 100 companies, agencies, and organizations, including:
| | | |
| --- | --- | --- |
| AARP | Ford Motor Company | State Farm Insurance |
| Abu Dhabi Police | Forum for the Future | Swedish Armed Forces |
| American Association of Museums | General Motors | Target |
| American Heart Association | Interpol | The Clorox Company |
| Aveda | Kaiser Permanente | The Coca-Cola Co. |
| Bank of Canada | Kimberly Clark Corp. | The Hershey Company |
| Bridgestone Americas | Lockheed Martin | Toyota |
| Business School Lausanne | Lumina Foundation | The Treasury New Zealand |
| Caribbean Development Bank | M.D. Anderson Cancer Center | U.S. Army Southern Command |
| Carnegie Mellon University | Magic Leap | U.S. Coast Guard |
| Center for Disease Control | McKinsey & Company | U.S. Department of State |
| Centre for the Future of Museums | Ministry of the Environment and Water Resources Singapore | U.S. Directorate of National Intelligence |
| Cincinnati Opera | National Auctioneers Association | U.S. Marine Corps |
| The Conference Board | NATO | U.S. Secret Service |
| Corporation for Public Broadcasting | Natural Resources Canada | UAE Ministry of the Interior |
| Deloitte | Nestlé | UK Government Office for Science |
| Delta Air Lines | Nike | United Auto Workers |
| Department of Homeland Security | Nokia | United States Military Academy |
| Eastman Chemical Company | PepsiCo | University of West Indies |
| European Commission | Philips | Walt Disney World |
| European Tourism Futures Institute | PricewaterhouseCoopers | World Bank |
| Exxon Mobil | Scottish Police College |   |
We invite you to join us for our virtual or in-person seminars. Our certificate seminars are limited to 30-35 students, which allows for optimal class time, small group work, and networking opportunities. Please see the dates on the Foresight Seminar page for more information about the curriculum and to register.